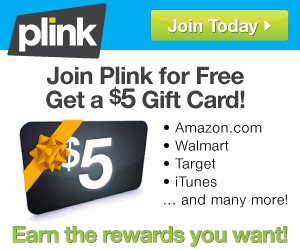 Get a FREE $5 gift card from Plink, just for signing up!
If you haven't heard about Plink yet, it is a program where you can earn gift cards for going out to eat or spending money at certain retailers. I've been using it and it's great! I don't earn a lot because I am trying to cut back on going out to eat. It is really nice to earn a little back when we do go out, though.
Plus, right now, you can get a $5 gift card just for signing up! The points for the $5 will take a few minutes to be added to your account.
You do have to add your online bank account to use Plink. That's how they know when you use your card so you can earn your rewards. I was a little wary at first but tried it and haven't had any problems at all. Plink also has an A- BBB rating.